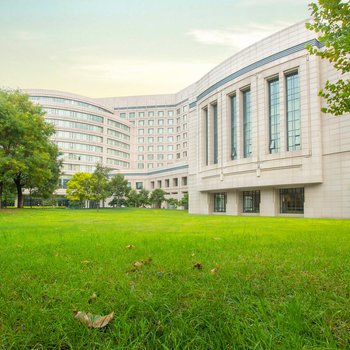 Featuring a 24-hour health club, Renaissance Lakeview boasts beautiful lakeview and nearly 10,000 square metres of natural lawn garden. It features 3 restaurants, a full-service spa and indoor pool. The hotel is only 200 meters away from Tianjin Hotel metro station on Line 6.
Renaissance Tianjin Lakeview Hotel is a leisurely stroll from Tianjin Cultural Center, The Mixc Shopping Mall, Tianjin Grand Theatre and Tianjin Museum. It is a 15-minute drive from Tianjin Railway Station. You may reach Tianjin West Railway Station in 40 minutes' drive and reach Tianjin South Railway Station in 50 minutes' cab ride.
Hotel Robot named Leon will welcome you in lobby and deliver hotel supplies to your room. Spacious rooms feature air conditioning, safe, comfy bathrooms and cable TV with various TV channels. Guests can enjoy scenic city or lake views from over-sized windows while lounging in spacious rooms. In-room entertainment include a DVD player and an iPod dock.
Relaxing massages at the spa await after active workouts at the tennis courts. To assist guests, staff provide 24-hour reception, business and concierge services. Indoor tennis courts, a whirlpool and a 24-hour gym are also offered. There are also a number of meeting space and ballrooms available upon request.
There are 3 on-site dinning options available. Featuring an outdoor dining area, Int Café BLD offers international dishes with views of the lake. Chinese specialities are available at New Dynasty while Fire House has a Western menu.